Tattoo Tina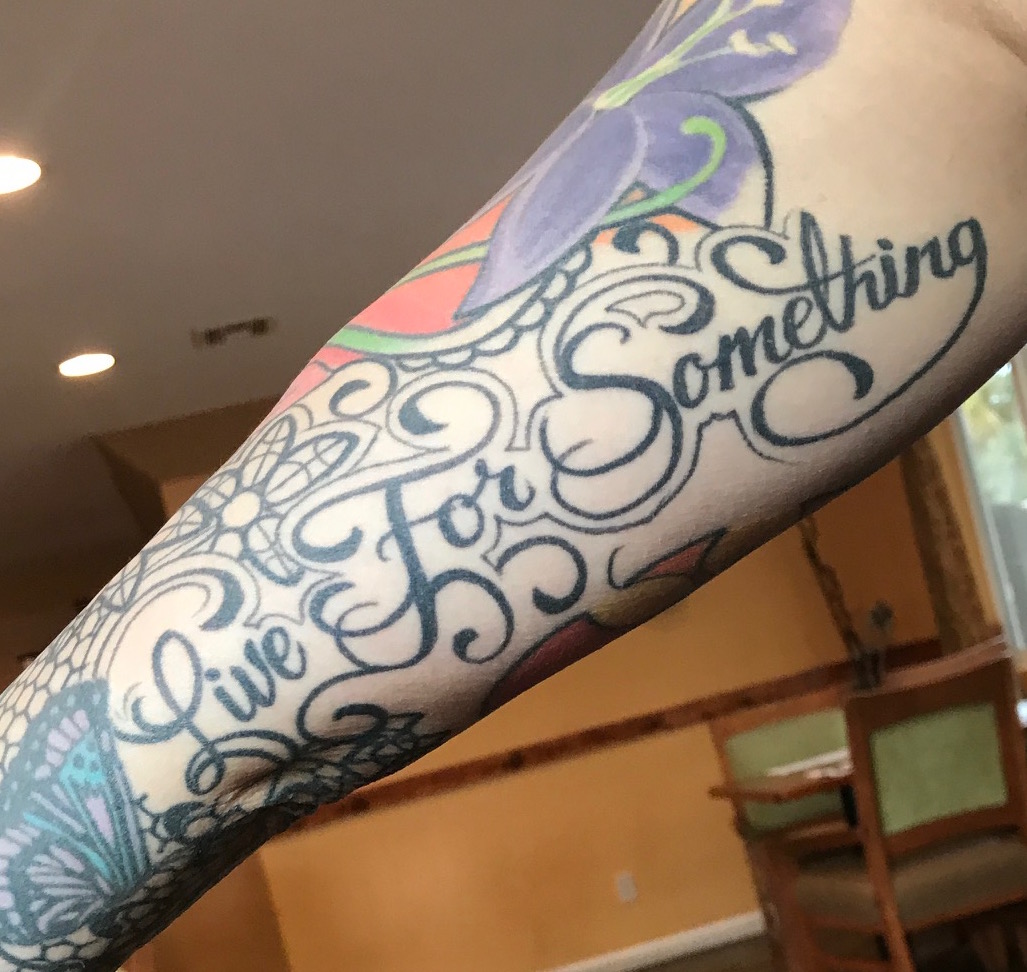 The first day was jitters and chaos. Marty and I woke up at 3 a.m. and that was it. After the photo op at Dog Beach, we left San Diego through a myriad of bike paths and secondary roads and headed up to Alpine, ending the day with a six or seven mile climb. It was cool at the beach and very hot later in the day. It was challenging. I didn't hydrate early enough or often enough (despite coaching from the guide!). But I made it. A supportive rider stuck with me while we road uphill and I whimpered about the heat and stopped -what seemed like-ok what really was- every 1/4 mile to drink and rest. I drank two bottles of water and electrolytes immediately after getting off the bike-a bad sign.
Day Two : Alpine, California to Jacumba, California. 46+ miles and about 4500 feet of elevation gain. It was sunny, much cooler than yesterday with thirteen miles of climbing to start the day. I found my climbing rhythm by singing 100 bottles of beer on the wall with every climb. Got to fifty bottles one climb, forty another and zero on two more. I've decided that 6% grade is the new flat. The SAG (water and food SUV that supports us) was also over the first day chaos and was there three times on the route. Lots of hills means lots of water needed.
A beautiful bluebird at lunch with a pretty red chest made it a bluebird day.
We were stronger together today. A small group or two went off the front. And then there eight or so of us that road together throughout the day. I noticed that each of us has strengths. Some are quick ascenders that can sprint up hills after a good downhill. Some are long slow steady climbers. Some are great descenders. Some are cheerfully working their way into shape as they come from a colder climate with less access to outdoor riding. We waited for each other, supported each other and stopped to take pictures. The day was rounded out on some lonely roads with rough shoulders but great views and several awesome downhills.
We are staying in Jacumba at a hot springs hotel. After the ride some of us took a quick dip in the mineral whirlpool to loosen our legs and then I headed to the bar for a cool one with a friend.
The bar was amazingly friendly, everyone who walked in was teased and treated like family. I can hear the music and the laughter from there even now after dinner. The bartender, the delightful Tattoo Tina, was gracious enough to talk to me about her tattoo sleeves. One sleeve has the names of her five children. The other is shown in the photo above. Her motto "Live for Something" made my day.
I'm living to ride.