There are no shortcuts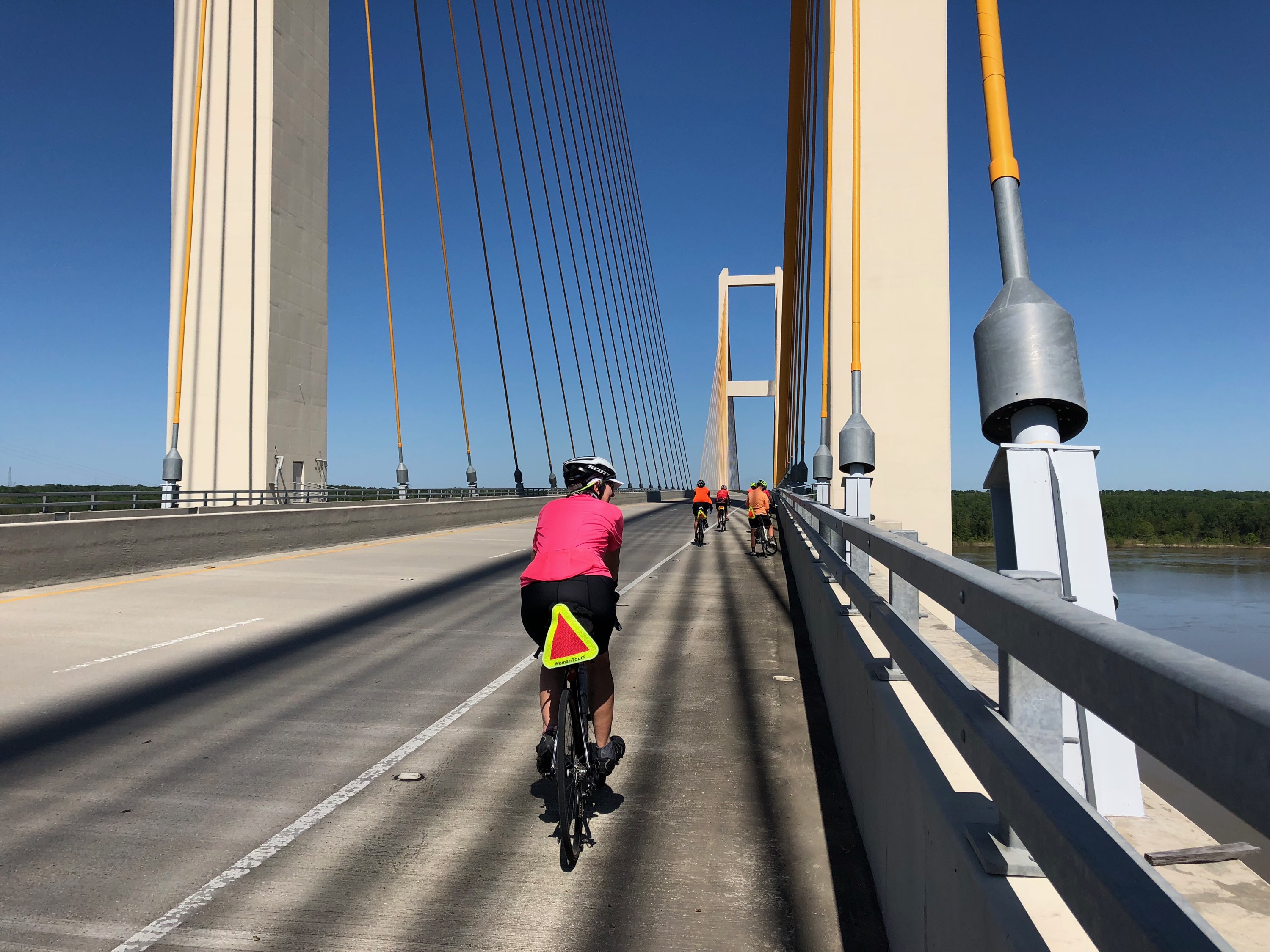 Only 14 riding days left. We have a rest day in a small Louisiana town. I'm happy to be staying in the cottage at a ninth generation family owned plantation with a coffee pot and a porch. Not that you can use the porch, because, you know, bugs. Muddy water draws hundreds of gnats. The minute you stop, they crawl up your nose and into your ears and eyes.
Yesterday we rode over 90 miles and crossed the Mississippi. Our fifth riding day in a row for a total this week of over 400 miles. So far we've biked more than 2000 miles.
Many riders have fallen at least once, mostly people have biffed (fallen when not going fast, perhaps when just starting up, or slipping on gravel, or on a steep hill). One was knocked down by a dog. I'm grateful she wasn't hurt and grateful that she warned to owner to lock the dog up because there were lots of us following her.
At this point, everyone is a little banged up. A sore knee, a tight back, a bruise or three from a fall. Better yet are the mysterious bruises that you don't even know how you got.
The things that I thought would hurt, don't hurt.
One day, a week or so ago, my back was tingling from a sore muscle pressing on a nerve. I was cranky. I pedaled along alone. At the first snack stop I thought, I'll get in the sag and take a bump up the road twenty miles. Then one of my buddy riders pulled into the sag, she had fallen, slipped on some gravel when she stopped to read a historical marker. Her hand swelled and her knee was skinned. Her elbow and hip would hurt and bruise the next day. Even after that she said yes, she was going on. So, me with my piddly little back ache, I popped a couple ibuprofen. And a prepared fellow rider offered some magic cream to me and arnica to her. I muttered, mostly to myself, "fine, I'll ride with you." Before I knew it the day was done.
I'm tired. A bone weary, tired that even sleep doesn't cure. For a few days, my legs wanted to quit at 50 or 60 miles. I've upped my protein and have been drinking more water and pedal easier all day. It helps that we are finished with the Texas Hill country.
I'm learning about persistence.
I pedal. 810,000 pedal strokes so far.
I'm learning to live in the moment.
Yesterday, on the bridge over the Mississippi and the highway that followed that, I got exposed to a ton of diesel exhaust. I had an asthma attack at mile 85 of 92. I didn't have my inhaler.
Coughing, I called the sag at mile 88 and asked, ok begged, her to bring my inhaler (no yelling about why I didn't have it with me, I haven't had a problem the whole time!). At that point, I could have easily jumped in the car and gotten a ride to the plantation. I rode on. What was three more miles at that point? I might as well finish.
When the roads are rough, I pedal.
When the weather is threatening, I pedal.
When my legs are tired and I just am not sure I can keep them spinning, I pedal.
I wish there was a magic wand that would make it easier. I might wish for tailwinds but no matter what, I pedal.