Nitty Gritty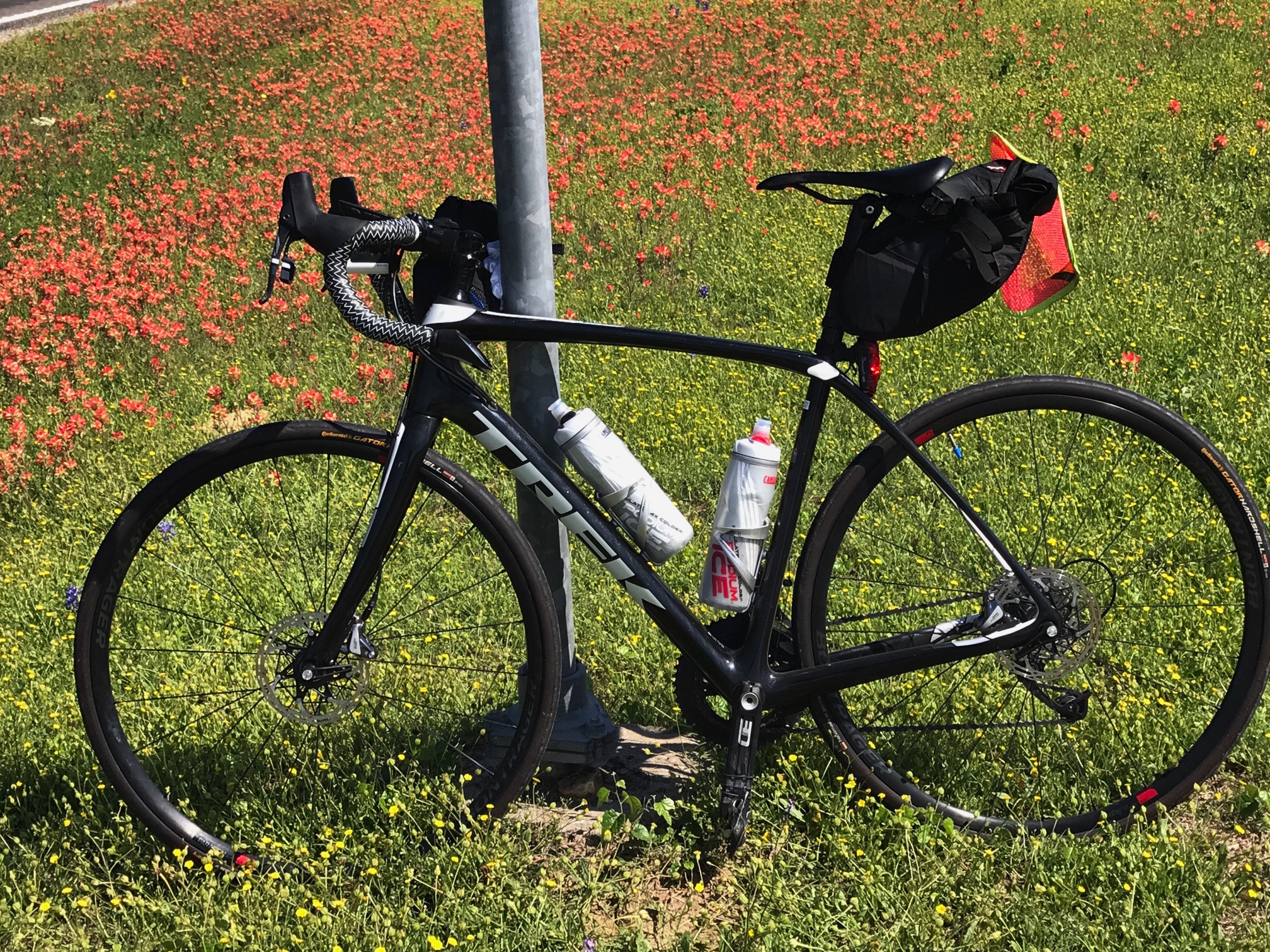 Most days, when we are not riding, eating, or sleeping, we spend half our life packing and unpacking. Reorganizing bike gear, laundering bike clothes and making sure we have everything we need to get down the road. I thought you might want to know what it takes.
Starting clothing depends on starting temperature and expected wind conditions. Unlike last year at this time (where it was roasting), we have had cool to downright cold temperatures. I feel like I am back to spring biking in Chicago. Thank goodness I kept that warm jacket.
If the temperature is less than 50 degrees at our start time, I wear tights over my cycling shorts, a short sleeve jersey with smart wool arm warmers, then I layer my warm Windstopper Gore bike jacket and my Gore ShakeDry jacket (windbreaker) over it. I add short bike gloves and windstopper bike liner gloves that go over the top of those. Double thick wool socks go under my bike shoes if the day is expected to never go above 60. If the wind is going to be brutal, I slip toe covers over my bike shoes. If my feet are cold, I'm cranky! A buff that wraps my face, ears and head with a billed hat on top of it to keep the sun or rain out of my eyes.
If the temperature is between 55 and 65. I skip the tights, toe covers, change wool socks out for regular socks. And if there won't be a lot of wind and with either sunshine or clouds, I wear either the warm jacket or the wind jacket but not both.
At 65 degrees and sunny, no jackets, lighter sun arm sleeves, regular bike socks, more sun screen and usually still a buff to protect my neck and wear in case there is a dusty wind.
As the temperature warms up, I unload more and more clothes at the supported stops, everything else I carry on me or on the bike. I have a couple of sleeveless jerseys, in my mind I thought we would be cycling down the road, sleeveless, getting brown as berries and smiling at the pretty scenery. So far those sleeveless jerseys are rolled up in my bag, useless.
What do I carry to get through 6-8 hours a day on the bike?
In the pack on the back of my bike I carry:
Stuff to change a flat tire: tire levers, spare inner tube (or two if the roads are bad), bike wrench set, tweezers to get thorns or small wires out of my tires, two compressed air cartridges and a nozzle to use on the valve to inflate them, a small hand pump and a small patch kit in case I have to reuse a tube.
Because it is better to be safe, I carry a mini first aid kit.
Disposable gloves so I don't get grease all over me during a repair and since that never works, I also makeup wipes from the hotel to get rid of the grease I inevitably get on me.
Draped over that rear pack is the orange safety triangle that for this tour we all use. In a pinch I can unroll and throw extra gear in that back pack.
On my handle bar is my Garmin Edge 520. It gives me directions electronically, and tells me all sorts of useful stuff, how much climbing we are doing, grade of this climb, outside temperature, speed, cadence, heart rate, what direction are we headed. I used to care about all that stuff, now I just look at the map and note how long before I turn again. Ok, sometimes I still look at direction so I can whine about the wind. And I carry a battery back up so I can charge it on long days.
Then in my small feed bag on my handlebar:
Emergency food called Gu. If I feel like I've lost my oomph and I have to climb a tough hill, I tear open a Gu, it is instant energy with a shot of caffeine. I always have a couple to four of these on me, just in case.
I also carry small packets of chamois butter to avoid/soothe saddle sores, extra sunscreen, lip sunscreen, my phone, driver's license, credit card and a bit of cash for the small stores that hate credit card transactions.
I carry a Dog Dazer, an electronic ultrasonic dog stopper! Plus an airhorn. We are all worried about being chased, bitten, or knocked down by dogs. We are 29 biking days into our 48 days of adventure and about to enter dog territory!
On my down tubes I carry two 24 oz water bottles - one with Nuun electrolytes, one with water. I'm a cold water girl so I start the day with my bottles filled with ice. I also use triple insulated bottles. Some people just put room temperature water in their bottles, that makes me crazy just thinking about it. It all fits nicely as you can see in the picture.
And last but not least, I always stuff some food in my pockets:
Peanut butter M&M mixed with Macadamia nuts/Cashews. On long days, I add a peanut butter and jelly sandwich. I could write a blog entry on how I biked across America on peanut M&M's, peanut butter sandwiches and ginger snaps.
I'm all packed up and ready for the next five days of biking. We have a long stretch of almost 400 miles before the next rest day. We are leaving the Texas Hill Country and moving on to flatter territory, and I'm hoping for tailwinds!